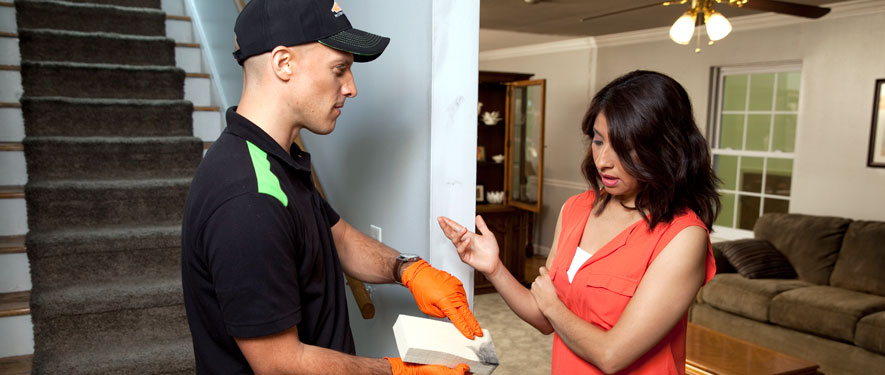 Ceiling, Floor, and Wall Cleaning
Ceilings and Walls
Walls and ceilings are often ignored or overlooked during routine cleaning because it is challenging to wipe off dust, cobweb, scuff marks, handprints, and other debris or marks on them. However, keeping them clean is necessary to maintain your home's sanitation and appeal. In addition to this, it becomes vital to clean them at the end of the tenancy because dirty walls and ceilings can be reasons for deductions from the security deposit after inspection. Whatever the reason, knowing how to keep your home walls and ceilings clean is essential.
The professionals at SERVPRO Sunland/Tujunga will clean walls and ceilings and they are important for keeping dust, dirt, germs and diseases away. Since these areas are not cleaned regularly, they can accumulate dust, mold spores, pollen, dander, pet hair, spillage and other debris that can make residents in the house fall sick repeatedly. Walls and ceilings that are cleaned regularly have lower chances of developing mold, as spores get removed for the surfaces before they can infest the area.
Besides health reasons, keeping them clean is essential to make your home look neater and more inviting because natural and artificial light can reflect better off tidy walls and ceilings. Furthermore, according to standard lease contracts at the end of tenancy, occupants are required to get the whole property cleaned, which includes the walls and ceilings. Failing to remove scuff marks, dirt, spillage, dust etc. can result in deductions from the security deposit.
Need Professional Cleaning? Call Today (818) 951-6780
Hard Floors
Hard flooring, like hardwood and tile, is often used in today's homes and commercial properties. At first glance, hard flooring appears to be easy to clean, maintain, and restore. However, these materials tend to have soil accumulate over time, and eventually you'll need professional cleaning to remove this buildup.
We have specialized training in time-tested and industry-approved cleaning methods. Also, our proprietary cleaning system allows our Professionals to properly clean and restore your floor's original beauty.