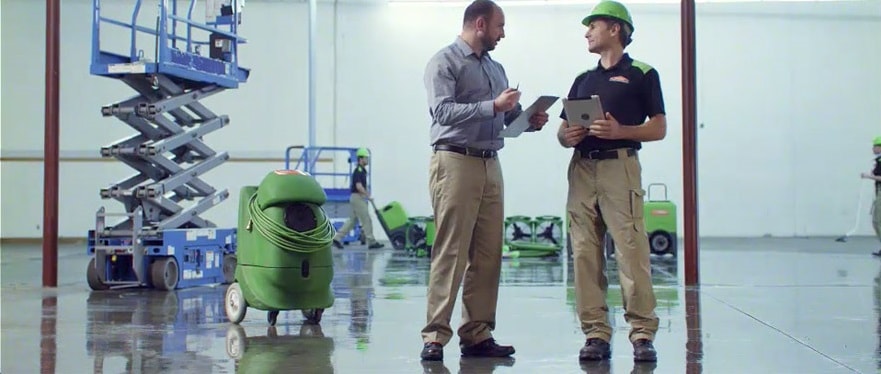 Commercial Mold Remediation
Fires can also cause significant damage to the structural integrity of the commercial property, making it prone to collapse. For this reason alone, professional, experienced restoration services are needed to preserve the beauty and safety of the property. 24/7 emergency service means we can have a technician on-site within hours of the fire, and we are able to handle even the largest cases of fire and smoke damage. All of our personnel are properly certified in all areas of fire restoration, which means we know how to take care of your unique needs.
Water and foam can create a very messy post-fire environment, and with that comes the threat of mold. Mold growth can show up within 48 hours of a fire and be extremely difficult to properly remediate. Similarly, power and gas should be shut off until repairs are affected, since damaged electrical units present the threat of electrical shock, and leaking gas will not mix with the smoldering ash of open flame.
Because SERVPRO Sunland/Tujunga handles all areas of restoration, we can take care of all problems related to both the fire and any water issues that may be a result of the efforts to extinguish it. No stone will be left unturned and we will treat your commercial property as if it were our own. You can rest assured of a first-rate job, done right, the first time because we stand behind everything that we do.
24 Hour Emergency Service
Faster to Any Size Disaster
A Trusted Leader in the Mold and Water Restoration Industry with over 2180 Franchises
Highly Trained Mold and Water Damage Restoration Specialists
Have a Mold Problem? Call Us Today – (818) 951-6780
Commercial Mold Remediation Presents Unique Challenges
Mold can spread quickly through a property if left untreated. SERVPRO of Sunland, Tujunga, Sylmar, San Fernando, Van Nuys North can respond quickly, working to first contain the infestation to help prevent its spread to other parts of the building. Next, we will begin the remediation process, working safely and effectively to manage the situation. We have the training, experience, and equipment to contain the mold infestation and remediate it to preloss condition. Learn more about SERVPRO of Sunland, Tujunga, Sylmar, San Fernando, Van Nuys North training and certifications.
Applied Microbial Remediation Specialist
Water Damage Restoration Technician
Applied Structural Drying Technician
Odor Control Technician
Upholstery and Fabric Cleaning Technician